PRODUCTION
---
Changzhou Strengh Power Technology Co.Ltd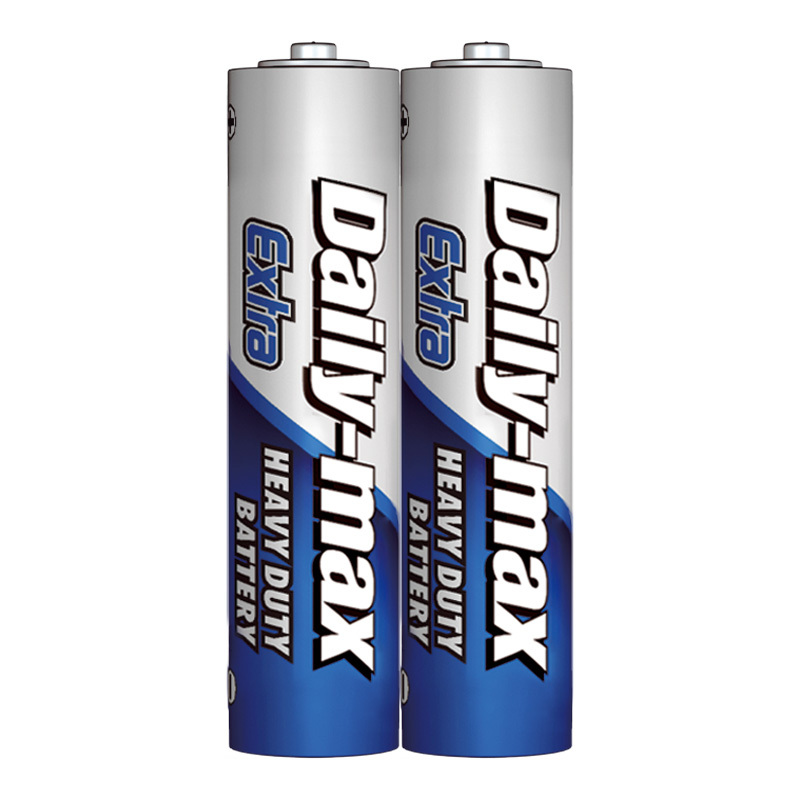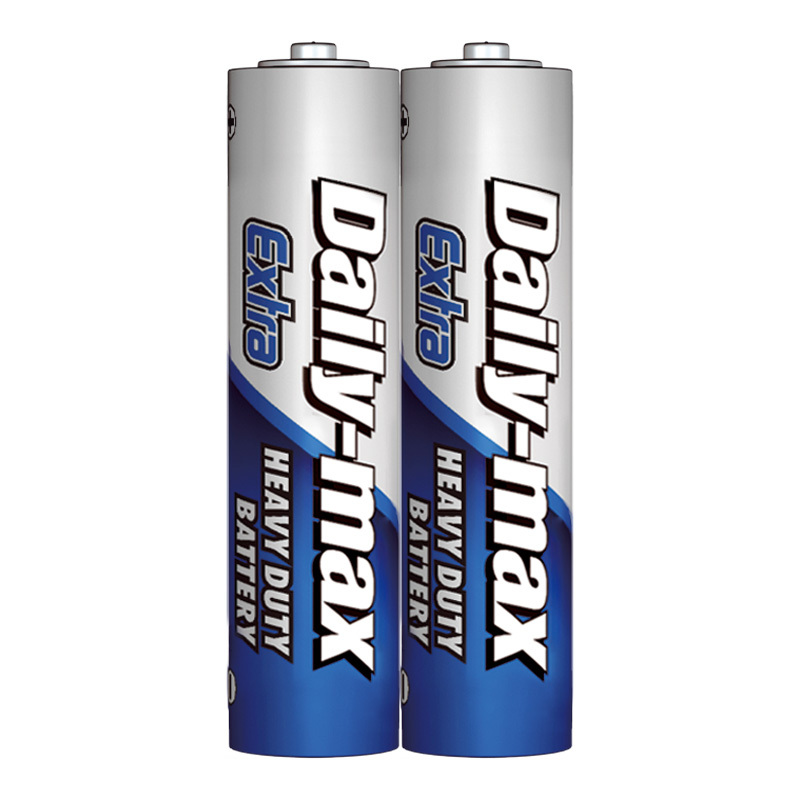 R03P Silver Blue-2S
The company mainly produces over 50 varieties of alkaline batteries, carbon batteries, button type lithium manganese batteries, and other products, which are widely used in electronic appliances such as automobiles, computer motherboards, remote controls, and so on
Keywords: alkaline battery | button type lithium manganese battery | carbon battery
---
---
---
---
---
CE,ROHS,SGS,REACH,UL,KC,UN38.3,MSDS
1.Scope
This specification governs the technical requirements of Daily-max Carbon Zinc battery of R03P/AAA. If it doesn't list the other detailed requirements, the technical requirements and dimensions of battery should meet or above GB/T8897.1 and GB /T8897.2.
1.1Reference Document
GB/T8897.1 (IEC60086-1,MOD)(Primary Battery Part 1: General)
GB/T8897.2 (IEC60086-2,MOD)(Primary Battery Part 2: Dimensions and Technical Requirements)
GB8897.5 (IEC 60086-5,MOD)(Primary Battery Part 5: aqueous electrolyte battery safety requirements)
1.2Environmental protection standard
The battery accord with 2006/66/EC
2.Chemical system, Voltage and Designation
Electrochemical system: zinc - manganese dioxide (ammonium chloride electrolyte solution), does not contain mercury
Nominal voltage:1.5V
Naming :IEC: R03P ANSI: AAA JIS:SUM-4 Others: 24F
3.Battery Size
Conform to the requirements of the brief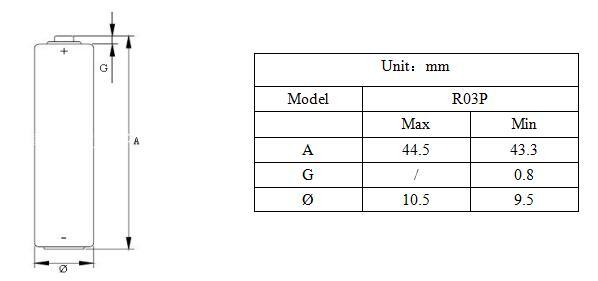 3.1 Acceptance tool
Using vernier caliper measurement precision is not less than 0.02 mm, measure to prevent the battery short circuit, one end of the caliper head card should be labeled as a layer of insulating materials。
3.2 Acceptance methods
The GB2828.1-2003 normal inspection sampling plan at a time,special inspection level S-3,acceptance quality limit AQL=1.0
4.Weight and discharging capacity
Typical Weight: 7.2g
discharge capacity:300mAh(load 75Ω,4h/day,20±2℃,RH60±15%, final
voltage 0.9V)
5.open-circuit voltage、closed - circuit voltage and short-circuit current
items

OCV(V)

CCV(V)

SCC(A)

sampling standard

After 2 months, new battery

1.62

1.40

2.50

GB2828.1-2003 Normal inspection sampling plan, special inspection level S-4,AQL=1.0

After 12 months at
room temperature

1.58

1.30

2.00

Test conditions

load resistance 3.9Ω, measuring time 0.3 seconds,temperature 20±2℃
6.Discharging Ability
temperature:20±2℃

Discharge Conditions

GB/T8897.2
National standard requirement

Shortest Average
Discharging Time

Discharge load

Discharge Time

Cut-off discharge voltage

2 months, new battery

After 12 months at
room temperature

10Ω

1h/d

0.9 V

1.5h

2.4h

2.1h

75Ω

4h/d

0.9 V

20h

21h

20h

5.1Ω

4m/h,8h/d

0.9 V

50min

70min

65min

24Ω

15s/m,8h/d

1.0 V

4h

5.5h

5h

3.9Ω

24h/d

0.9 V

/

35min

32min
Satisfaction Standard:
1)9 pieces of battery will be tested for each discharging standard;
2)The result of the average discharging time from each discharging standard shall be equal to or more than the average minimum time requirement; no more than one battery has a service output less than 80% of the specified requirement. Then the batch battery performance test qualified.
3)If nine section of the battery discharge average less than the specified value of minimum average discharge time and (or) is less than the specified value of 80% of the battery number more than 1,we should take another 9 batteries to test again and calculate the average. Calculation results conform to the requirement of article 2, the batch battery performance test qualified. If it does not conform to the requirement of article 2, the batch battery performance test is unqualified, and no longer test.
7.Anti-leakage ability
items

Conditions

requirement

Acceptance Standard

Over-discharge

at temperature 20±2℃; relative humidity: 60±15% RH ,
load 10Ω ,
Discharge one hour everyday until the voltage turn to 0.6V

No leakage recognized by eyes

N=9
Ac=0
Re=1

high temperature storage

Stored in 45±2℃,Under the environment of relative humidity to 90% RH for 20 days

N=30
Ac=1
Re=2
8.Safety Characteristics
items

Condition

Requirement

Acceptance Standard

External short circuit

At temperature 20±2℃,With wires to the battery positive negative switched on 24 hours

No explosion
allowed

N=5
Ac=0
Re=1
9.Signs
The following markings will be printed, stamped or impressed on the body of battery:
1.Designation: R03P/ AAA
2.Manufacturer or trademark:Daily-max
3.Polarity:"+"and"-"
4.Expiration date deadline or manufacturing time
5.The attention notes for safe use.
10. Cautions for Use
1.Since the battery is not manufactured for recharging, there are risks of electrolyte leakage or causing damage to the device if the battery is charged.
2.The battery shall be installed with its "+" and "-" polarity in a correct position, otherwise may cause short-circuit.
3.Short-circuiting, heating, disposing of into fire or disassembling of battery is prohibited.
4.Battery can not be forced discharged, which leads to excess gassing and may result in bulging, leakage and de-crimping of cap.
5.New batteries and used ones can not be used at the same time. It is recommended to use the same brand when replacing batteries.
6.Electrical appliances should be take out the battery when not in use for a long time
7.Exhausted batteries shall be removed from the compartment in order to prevent over-discharge.
8.Prohibit direct welding battery, otherwise it will damage the battery.
9.Battery are to be kept away from children. If swallowed, contact a physician at once.
11.Normal Packing
Every 2 or 3 and 4 batteries or according to customer requirements with
transparent membrane after hot shrinkage, each 60 knots in 1 inner boxes,
20 boxes into 1 box.
12.Storage and shelf life
1.Batteries should be stored in ventilated, cool and dry place。
2.The battery should not be exposed to direct sunlight for a long time or in the rain。
3.Not to mix removed packaging battery stack together
4.Stored at condition of tempreture20℃±2℃, relative humidity 60±15%RH, the battery shelf life is 2 years。
13. Typical discharge curve
Discharge environment:20℃±2℃,RH60±15%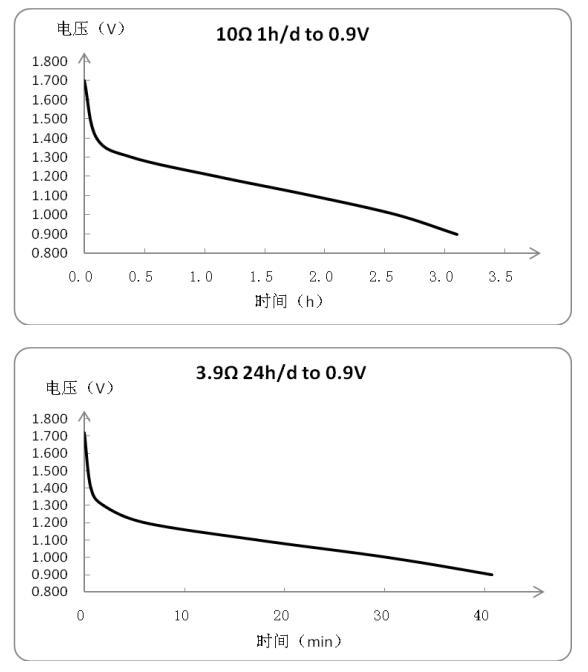 With parameter adjustment, product technology updates, technology specification will update at any time, please do not hesitate to contact to stand for the latest version of the specification.